LVL lash lift review
On Saturday I walked to Aje Beauty, a treatment room (inside a gym, inside an apartment building) near my house. I was greeted by the lovely Aje and she had a little look at my short, half-asian lashes.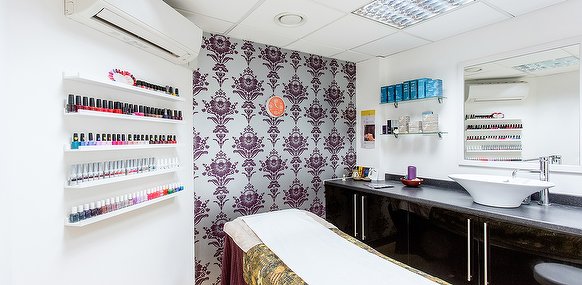 Aje's treatment room.
So, what is LVL lash lift? The treatment straightens your natural lashes at the root, creating the appearance of longer, lifted lashes. The added tint creates a mascara like effect.
Here are some before shots of my bare, naked eyes.
Aje started by taping down my lower lashes so they wouldn't get in the way.
She then popped a small plastic shield on top of my eyes and started lifting my lashes onto it with a special glue.
After that she applied various solutions and serums and finally a tint.
She then used another solution to loosen my eyelashes from the shield. I'm not going to lie, I didn't really see a difference at first and was kind of disappointed but seeing the before and after made me feel better! My lashes are definitely lifted and once applied with mascara they look super long! I do wish they had more of a curl but a girl can't have everything, haha.
As you can see above, the difference is pretty big with makeup on. I'd normally curl my lashes with an eyelash curler before AND after mascara (I know you shouldn't, but my lashes are THAT bad imo), now I don't have to do it! Yay! I would definitely do the same treatment again but see if my lashes could be lifted even more. Hey, if you don't ask..
The treatment cost £45 at Aje Beauty and she's based in South Quay (Canary Wharf).